A Tourist Expedition to Antarctica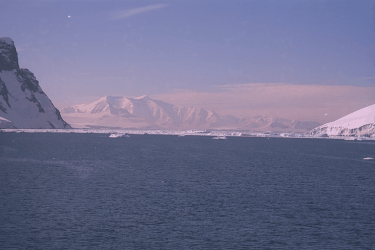 This hypermedia exhibit describes my experiences on the Grand Antarctic Circumnvigation cruise of the MV Marco Polo, from January 26 through February 19, 1994. Our expedition leaders were Lars-Eric Lindblad, well-known for his ground-breaking development of the envirotourism industry, and Nigel Sitwell, also well-known for many tourist expeditions to Antarctica. We were accompanied by a number of famous Antarctic explorers, including Sir Edmund Hillary and Sir Vivian Fuchs, as well as family members of the original South Pole explorers, Robert Falcon Scott and Roald Amundsen, and experts on Antarctic biology and geology.
On this expedition, we visited sites within the Antarctic Peninsula and the Ross Sea, traveling from Punta Arenas, Chile to Christchurch, New Zealand.
This exhibit includes my personal journal entries, photographs, and audio recordings from the trip, original pre-cruise materials from Orient Lines (made available with their permission), and an Internet information resource guide to Antarctic-related information.
For news about my progress toward making all of this information available (not all of it is here quite yet), please check the status report.

This exhibit was a nominee in the Best Educational Service category of the Best of the Web '94 awards, and appears in the "World Wide Web Must-Sees" list in Shannon R. Turlington's Walking the World Wide Web (Ventana Press).
Table of contents
Pre-tour information
The tour
My journal, with pictures (in progress)
Appendices
---
Copyright (c) 1993, 1996, by the Regents of the University of Michigan

ALL RIGHTS RESERVED

Created by Lee Liming